Description
About Stikman
Stikman is a pcp fill adaptor that we built from the ground up to fill PCP airguns. It is compact, easy to use. It features a 48″ microbore fill hose with a stainless steel female foster fitting that connects to most PCP airguns.
Please Note
Stikman only works on SCBA (fireman type) Tanks that have CGA-347 valves
Some airguns use fill probes that require a BSPP adaptor.  Don't worry we have them here
Stikman PCP Fill Adaptor
The Stikman PCP Fill adaptor connects up to a SCBA tank and allows you to fill your PCP airgun. Includes a protective case.
Stikman & Cascademan Combo
This kit includes a STIKMAN and a Cascade Fill adaptor. With this you can take advantage of the built in cascading feature of Stikman and cascade fill your airgun from two scba tanks. Without disconnecting your fill adaptor. This saves air and lets you get more useable air out of the tank before you need to refill it.
Cascademan
Cascade fill adaptor. With this adaptor you can use your existing Stikman to cascade fill your airgun from two scba tanks. Without disconnecting your fill adaptor.
We have lots of happy customers…
I ordered a STIKMAN – SCBA PCP fill system for my Benjamin Marauder pistol. The hardware was delivered very promptly, and could not have been easier to use for quickly filling my air gun from an SCBA tank that I ordered from eBay and had filled to 4500 PSI at a local dive shop. The STIKMAN system is compact and streamlined, but seems to be of very high quality throughout. The service and support from AirTanksPlus was absolutely top-notch. I could not recommend STIKMAN or the support team behind it any more highly.
Well made made and worth the money. Not to mention fantastic customer service with very fast turnaround times. Gene you are awesome.
I've had my Stikman for almost 2 years now, never had a single problem with it. Far and away the best fill system I've owned, although I only have 2 for what its worth. Love the option to use the Cascade and optimize the most out of my tanks. Customer service is great, when I talked to them about how to hook up my compressor to fill my SCBA tank they hooked me up with a male-to-male foster so that I could use my Stikman as my fill adapter to fill either my rifle, or tank, or both utilizing the cascade. Really recommend this unit for anyone that's trying to get set up, much better than the cheaper counterparts found on eBay.
STIKMAN… The ultimate fill system for PCP airguns.
STIKMAN is a purpose built PCP fill adaptor/fill station. While others build a pcp fill adaptor using bulky heavy fittings, STIKMAN was designed from the ground up to be a PCP filling tool with no wasted space or bulk. It was designed to be used to fill PCP air guns…so it has all the right stuff in all the right places. It includes a 48″ microbore hose to allow you to easily fill your PCP airgun whether the tank is sitting on the ground next to your shooting bench, or resting next to your air gun. The air bleed system safely blows air away from the operator. STIKMAN has a place to store the female Foster fitting when not being used to fill the gun, this prevents the hose from falling into the dirt where contamination will occur.
Get your own STIKMAN today and you will be ready for your next adventure.
What kind of tanks will STIKMAN work with?
STIKMAN was designed to be used with the SCBA tanks that utilize a CGA347 & CGA346 valves. They are the kind of tanks used by firefighters and rescue personnel. The valve on these tanks looks like this.
How to fill your pcp airgun with the Stikman PCP fill adaptor

Even if you already have a SCBA fill system, you still may want to pick up a STIKMAN for the cascade fill feature.
Cascade fill feature
How to fill a pcp airgun with Stikman
In this video I will show you how to fill an airgun with Stikman.  In the video I mention some guns use a fill probe and you may need a fitting to adapt it to Stikman.  You can find it right below this.
How to use your Stikman to Cascade Fill using 2 tanks
The integrated one way valve on the male foster can be used to cascade fill systems together, or you can use our Cascade Man. This feature is something most of you may never use, but if you ever need it…it will be there. This feature can be used to help squeeze more useable air out of depleted tanks. First you make sure the SCBA tank with the most pressure is connected to the STIKMAN, then you connect any other HPA (high pressure air) fill system that has a hose with a female quick-connect fitting to the tank with the lowest amount of air. Then connect the STIKMAN's fill hose to the airgun you want to fill. Ensure all bleed valves are closed. Then open the lowest tank's valve (this will charge the whole system) and start filling the air gun. If the lowest tank can not completely fill airgun, just close off its valve. Then slowly open the valve on the tank connected to the STIKMAN to finish filling the airgun. When done filling the airgun use the bleed valve on STIKMAN to bleed the air out of both lines.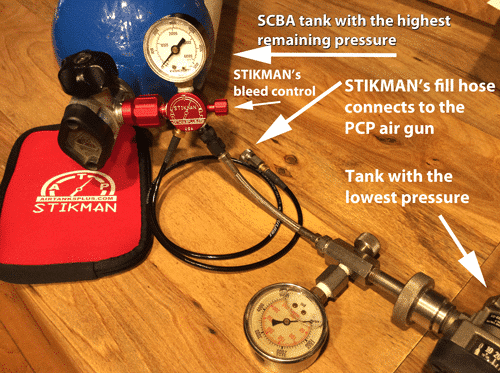 The steps may seem complicated, so I made this video that tries to explain it in detail.