Description
RegBoy is a high speed low drag adjustable external pressure regulator that mounts your high pressure air tank and regulates the pressure down to what is required by your PCP Airgun.  This unit is more compact and portable compared to our RegMan product.  This Regulator can also function as a PCP airgun fill system for your airgun, thereby eliminating one piece of gear in your PCP airgun kit.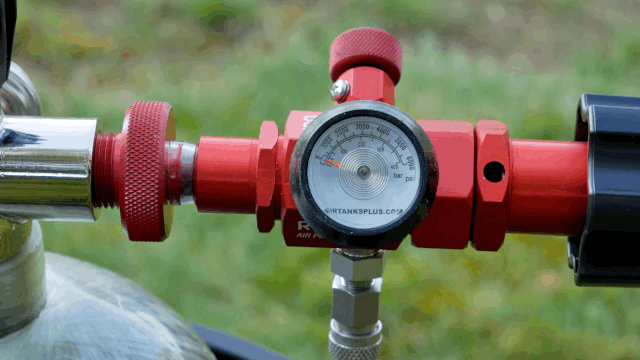 We added a table of contents to this product page because it really does do so much.  The page will be a work in progress, you can check back from time to time by using your smart phone to scan the QR code on the RegBoy.
RegMan Product Table of Contents
This short video will give you the general understanding of how it works.
Along with your RegBoy Regulator you will also receive…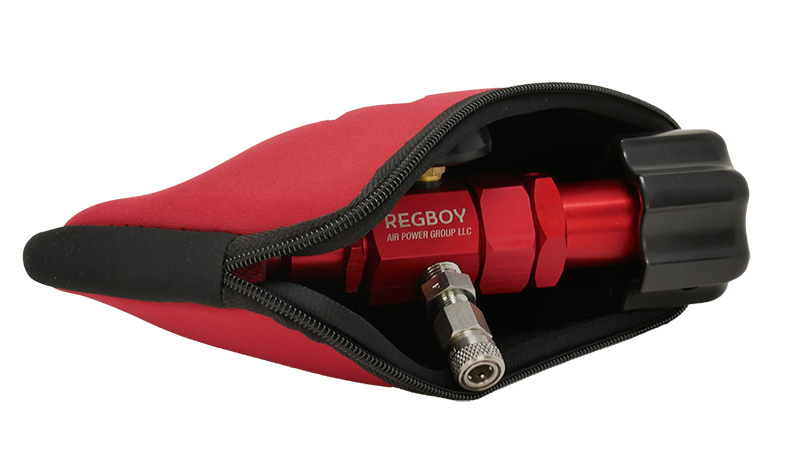 A protective neoprene soft case to keep your RegBoy in will help protect it from the other stuff rolling around your shooting bag or case,  protecting your investment.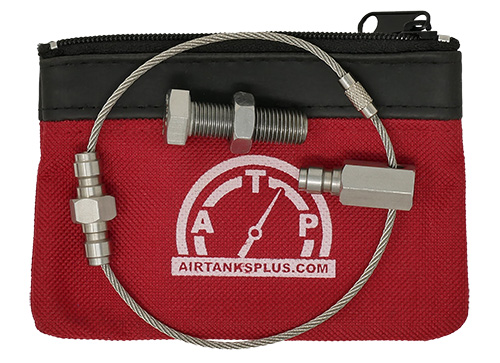 You will need a high pressure tank and a fill hose to connect to your PCPAirgun
A protective neoprene soft case to keep your RegBoy in will help protect it from the other stuff rolling around your shooting bag or case.  Protecting your investment. 
A Fill Hose to Connect to Your Gun
You'll need a high pressure rated microbore hose with quick connect fittings to connect your PCP Airgun up to the regulator.  Typically this would be a 48 inch hose with a male quick connect on one end (to attach to the regulator output) and a female quick connect on the other (to connect to your male quick connect port on your PCP Airgun.  If you have a Female to female hose, you can use the included male to male adapter to connect it to the regulator.  We make our custom hoses in house, and we make them in different lengths to suit your needs.  
RegMan will connect directly to high pressure air tanks that have either a SCBA CGA-347 or DIN-300 valve using a hand tight fitting, so no tools are required for connecting or disconnecting the regulator from your air tank.  It is important and it is your responsibility to know what kind of tank valve you have prior to ordering.  If you order the wrong one there will be a 25% restocking fee on this item.  If you are unsure please contact us before ordering.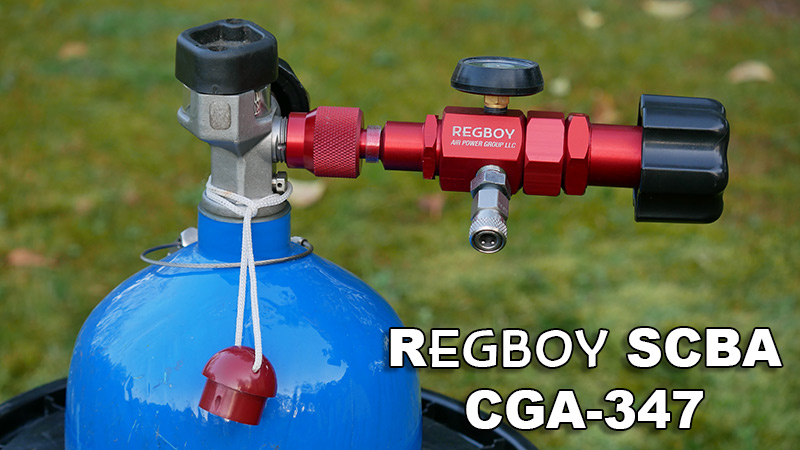 Here are some other scba tank examples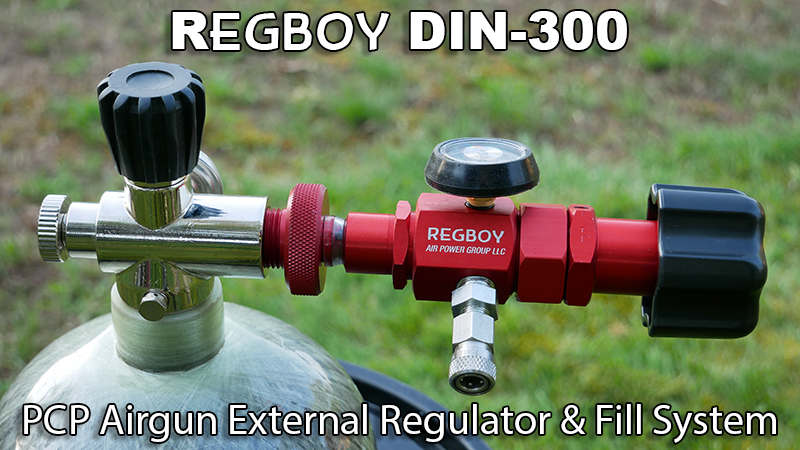 Here are some other scba tank examples
In the above examples,  The fill whip can be removed from the valve.  This is what you do when you want to fill the tank at a dive shop.  Once this is unscrewed you can then Screw on the RegBoy DIN Regulator. 
There are many ways to use your RegBoy Regulator, here are a few ideas to get you started
You can use your RegBoy Regulator to safely and accurately fill your PCP airgun.  There are two ways to do this.  The first way is to pre-set the RegBoy regulator (see the How it Works Video above) to the proper fill for your airgun, then bleed the air, and remove the deadhead.  Next attach the fill whip to your regulator and your gun.  Close the bleed valve on the regulator.  Now slowly crack the valve on the tank.  Continue letting the air slowly fill into the Regulator and you will see the RegBoy gauge showing some movement.   Then once the pressure in the fill system becomes greater than the current pressure in your airgun it will continue to move up a little slower until it reaches the reg set pressure.  At that point the air will stop moving into the airgun.  Now you can close the valve on the tank, bleed the air in the line, remove the fill whip from the gun.
Another way you can fill the airgun is to unload the regulator by backing out the adjustment nob.  Then you can connect the fill whip to your airgun.  Slowly crack the valve open on the tank.  Then slowly turn the regulator adjustment knob until the gauge reads your desired fill pressure.
Regulated Tethering to a PCP Airgun
If you want to shoot for long periods of time without having to stop and refill your air gun tethering is the way to go. When you tether your airgun you'll have an endless flow of air until the bottle gets too low to use. Another advantage of tethering your airgun is that you get to take it vantage of the regulated air coming from the regulator. This consistent air pressure translates to better shot to shot consistency.
The process of connecting your gun for tethering is the same as for filling your hair again but typically you'll set the regulated pressure lower at whatever your guy likes to shoot at.
Help with Tuning a PCP Airgun
An external regulator can help with airgun tuning.  There are many different ways to tune an air gun for both accuracy and air efficiency.   We're not going to give advice on Aragon tuning, but there's plenty of sources on the web that cover that. With an external regulator and a chronograph you can change the operating pressure of the gun.  This can be used to find the right speed for a pellet or slug, or help you with barrel harmonics.
We also make a RegMan Regulator.  The RegBoy is designed to mount directly to an air tank, the RegMan is not.   The RegMan was designed to sit on the shooting table or bench.  The RegMan has two gauges, making it easier to see both the tank pressure and the reg set pressure at the same time.
If you don't see your answer below, feel free to contact us with your questions.