Description
We developed the STIKMAN scba adapter for PCP Airguns because all the other PCP fill systems were big, bulky and pieced together from numerous fittings. Most people who jump into the PCP airgun market, don't realize just how many times they will end up  filling  PCP airguns over time. Investing in a high quality PCP airgun fill system upfront will make filling your  PCP airguns more enjoyable.
Why we like SCBA Tanks for Filling PCP Airguns?
We really like SCBA tanks for filling PCP airguns.  SCBA tanks can be filled to 4500 psi vs the standard SCUBA tank that only gets filled to 3000 psi.  They doo make high pressure steel scuba tanks that can go higher, but they become very heavy to lug around.  SCBA tanks are built tough because they are used by emergency service professionals in extreme environments.  SCBA tanks have an on-board gauge that shows the remaining pressure in a tank.  This means you can quickly look at a tank and see how much air is in it.  If you shop around on ebay you can find some great deals on scba tanks, just keep in mind that scba tanks have a 15 year lifespan.
How to fill a pcp airgun with Stikman
In this video I will show you how to fill an airgun with Stikman.  In the video I mention some guns use a fill probe and you may need a fitting to adapt it to Stikman.  You can find it right below this.
How to use your Stikman to Cascade Fill using 2 tanks
The integrated one way valve on the male foster can be used to cascade fill systems together, or you can use our Cascade Man. This feature is something most of you may never use, but if you ever need it…it will be there. This feature can be used to help squeeze more useable air out of depleted tanks. First you make sure the SCBA tank with the most pressure is connected to the STIKMAN, then you connect any other HPA (high pressure air) fill system that has a hose with a female quick-connect fitting to the tank with the lowest amount of air. Then connect the STIKMAN's fill hose to the airgun you want to fill. Ensure all bleed valves are closed. Then open the lowest tank's valve (this will charge the whole system) and start filling the air gun. If the lowest tank can not completely fill airgun, just close off its valve. Then slowly open the valve on the tank connected to the STIKMAN to finish filling the airgun. When done filling the airgun use the bleed valve on STIKMAN to bleed the air out of both lines.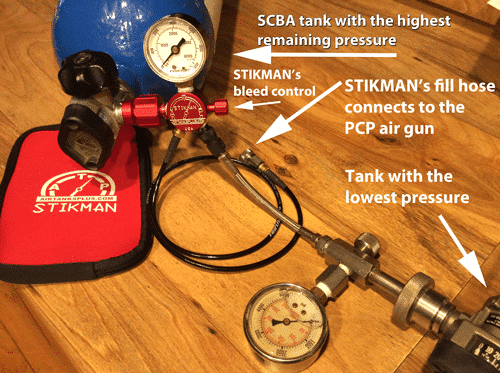 The steps may seem complicated, so I made this video that tries to explain it in detail.